Having an online presence regardless of your industry can be a make-or-break factor for generating revenue and influencing sustainable growth. Particularly with local brick-and-mortar stores it can be easy to rationalize not having a website because "my customers see my store, they know I'm here" can be a familiar argument. But they are needed, even in smaller communities. Did you know that 81% of people research a business or service online prior to making a purchase decision? Furthermore, 82% of smartphone users consult their phones on purchases they are about to make in-store.
By this point, you no doubt understand the need to have some web presence, but what you might not realize is how big of a difference a website can make for a company. In case the stats above alone haven't changed your mind, let's review the top 5 reasons why you need a website for your business.
1. Google Search is The Best Way to be Found and Seen
Let's start by reviewing some eye-opening statistics about Google Search to illustrate just how important a website is for local businesses.
46% of Google searches include local intent – meaning the searcher wants results of local companies.
72% of consumers that did a local search visited a store within five miles of their location.
97% of people learn more about a local company online than anywhere else.
88% of searches for local businesses on a mobile device either call or visit the business within 24 hours.
"Near me" or "close by" type searches grew by more than 900% over the last two years.
Having a business website optimized for local search allows you to capture your share of this business. Not only that, but it will help to position your company where people are most likely to find you when they make local search queries concerning the products or services you provide.
2. It Gives Your Business Credibility And Trust
One of the main reasons your business should have a website is to increase your brand's credibility. The modern consumer is a skeptic and without a website, people may question your legitimacy as a business. In fact, 56% of consumers state that they won't trust a business without a website.
Having a website is an opportunity to make a great first impression, showcase your expertise, and better position your business. A website can be your number one tool for standing out in a crowd and giving people comfort that you're a legitimate business.
3. Clearly Explain Your Offerings and Specialties
Let's face it, your business can't be open all the time. A website allows you to clearly showcase and explain your offerings and specialties 24/7/365  and can help provide answers when you can't. Consider your website as your "always-on" business advocate before, during, and after office hours. It's also your opportunity to lay out exactly what services you offer, which is probably why someone is on your website in the first place.
4. Enhance and Reinforce Your Brand
Showcasing your brand to prospective customers is one of the most important things that your website can do for you. A website will help you to tell your brand story and shape the online perception of your business in a way that social media channels alone cannot provide. By using your website to clearly establish who you are, what you represent, and what you stand for, you increase the chances of customers buying from you.
5. Customers Expect It
A website is typically an essential step in the modern customer's journey. For example, a typical potential customer may come across your business via outside channels like a social media feed. If the feed ad is interesting, they'll expect to visit your website to find out more about your company, products, or services. If there isn't a website, you run the risk of them not taking the next logical step in the customer journey to make a purchase.
An effective website is where you want your audience from different channels to end up. It's on the website that you'll inspire action from your potential clients.
Why Do I Need a Website, I Have a Facebook Page?
It's common for local businesses, especially small ones, to believe that they can rely on Facebook or other social platforms as their primary advertisement channel. And while social media is a big part of a well-rounded digital strategy, there are a few drawbacks to relying solely on Facebook.
You Don't Own Your Facebook Page
What happens if, one morning, Facebook decides that it won't support businesses anymore? Think that seems far-fetched? Earlier this year, Facebook rocked the world by discontinuing its Facebook Jobs feature, a move that left millions of companies scrambling for alternative recruiting channels. If your Facebook page represents the total of your company's online presence and your Facebook Business page disappeared, all the clients and followers you built would likely disappear with it. Admittedly, it's not a hyper-likely scenario, but the key takeaway from it is that at the end of the day, you don't have any say in the changes Facebook chooses to implement.
When it Comes to Search, Facebook Isn't Number One
Consider this, when you go to look for a local business are you more likely to search Facebook or Google. If you're like 3.5 billion other consumers, chances are your query just like that of your customers will start on Google.
Now, we aren't saying you shouldn't have a Facebook page for your business, in fact, these days it is essential to maintain a Facebook presence, but your Facebook page and other social media should support your website—not replace it.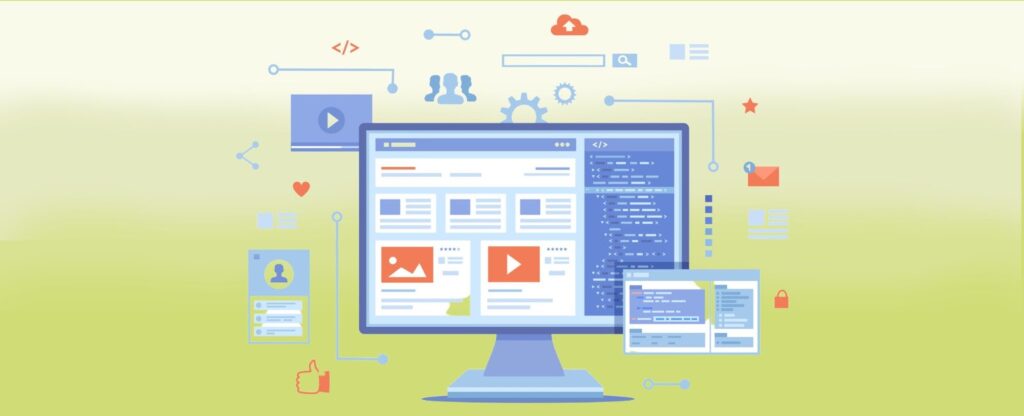 To Sum Up… You Need a Website, And It's Easier Than You Think to Get One
As you can see from our top 5 list, if you've been putting off getting a website for your brand, now is the time to make it a priority. Thanks to the pros at BCI, it's not as hard, or as expensive, as you think, and you don't need to be tech-savvy to get a website. We have a new one page website designed specifically for those who have been hesitant to take the leap in the past. This new offering includes:
SEO targeted company name, location, and industry
Monthly hosting, includes content updates as needed
Optimized for search engine indexing
Tested for speed and structure
ADA Compliance
SSL certificate
Our new one page website product is affordable and has the potential to boost your business exponentially, giving you a great ROI. Over the years, BCI has helped hundreds of companies of varying sizes create, build and manage their digital presence. Contact us today to see how we can help your business grow.